Audio

00118890
iKlip Stand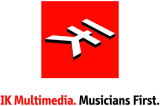 Model: 00118890
UPC: 884088954567
Master Carton Qty: 10
iKlip Stand is a new tabletop holder that raises your iPad and iPad mini above the desktop, positioning it for perfect access while using keyboards, mixers, controllers and other equipment.
Features include:
•¦Sturdy, robust thermoplastic with metal reinforced base
•¦Tall enough to fit a keyboard, mixer or other studio device underneath
•¦Two independent articulations for maximum flexibility
•¦Adjustable viewing angle
•¦iPad orientation can switch from portrait to landscape
•¦Available as a stand or desk clamp system
Details
Publisher:
IK Multimedia
Publication Date:
08/2013
Medium:
General Merchandise
Length:
9.50 in.
Width:
8.75 in.
Series:
Hardware